Field Sales Force Tracking
Real-time Location Tracking
Manage Visits & Improve Field Force Productivity
Dynamically Deploy Idle Staff to Productive Assignments
Download Detailed Reports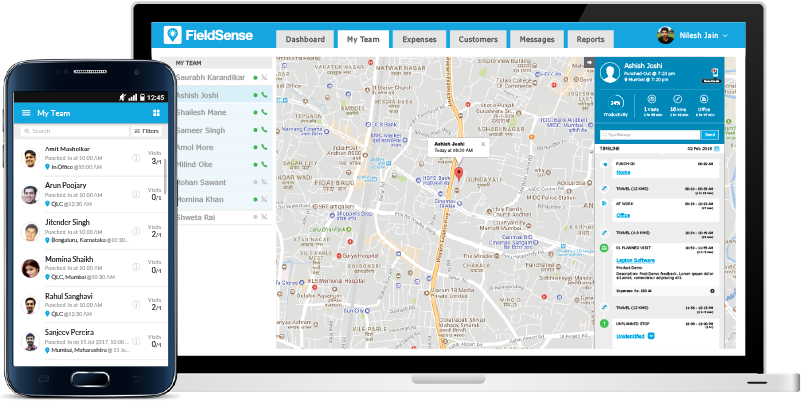 Get real-time updates of your subordinate's current location, routes taken and distance travelled.
Real-time Location Tracking
FieldSense lets you drill down to the present location of every single member of your field force along with pertinent information on their day's schedule and accomplishments.
Manage Visits & Improve Field Force Productivity
You can view the scheduled visits/meetings of your field staff, activities recorded by them during the course of their field movement, and expense claims along with convenient linkage to related field activities.
Dynamically Deploy Idle Staff to Productive Assignments
No matter how geographically spread out your field team is, the "My Team" interface gives you a quick view of your employees' current location, letting you dynamically deploy idle staff to productive meetings.
Download Detailed Reports
The Travel report gives a detailed view of the user's travelled locations and distance covered, helping managers and accountants while approving and disbursing the expense reimbursement claims..
Other Features
Attendance Management from Field Locations
No more coming to office just to mark your attendance. Handle your attendance routine directly from the field.
Learn More
Custom Forms
Personalized, Paperless and Productive – Discover a new extension to the 4 P's with Custom Mobile Forms from FieldSense. Find and process information in the most easy, secure and fast way.
Learn More
Field & Sales Force Reporting
Ensure your Field Force visits your customer on time. Get Instant Insights Into Your Sales Process From Anywhere!
Learn More
Expense Reimbursement Management
Simplified Expense Recording with Transparent Approval and Disbursal Process! No more spreadsheets and paperwork. No more back-and-forth emails between Managers, HR and Accounts.
Learn More
Would you prefer to get a demo of FieldSense before you get started?
Request a Demo