ATTENDANCE MANAGEMENT
Business Rules and Workflows for Paperless Attendance & Payroll Management
FieldSense lets you completely personalize the Attendance Management module – late marks, half days, workdays, shifts and more. And incorporates intuitive, self-service workflows to let your staff rectify irregularities or deviations right from their mobile devices.
Extensive Personalization
Here are some of the ways in which FieldSense lets you personalize its business logic.
Define Workdays and Shifts


Configure your weekly workdays, create shifts (fixed as well as flexi), and map these to departments and locations.

Create Your Company Holiday Calendar


Pick your holidays from your country's holiday list and create your own Annual Holiday Calendar. You can also add custom holidays and have different holidays in different locations.

Segregate your On-Field and In-Office employees


Your organization's attendance rules could be different for On-Field and In-Office employees, e.g. In-office staff don't get to punch-in from the field.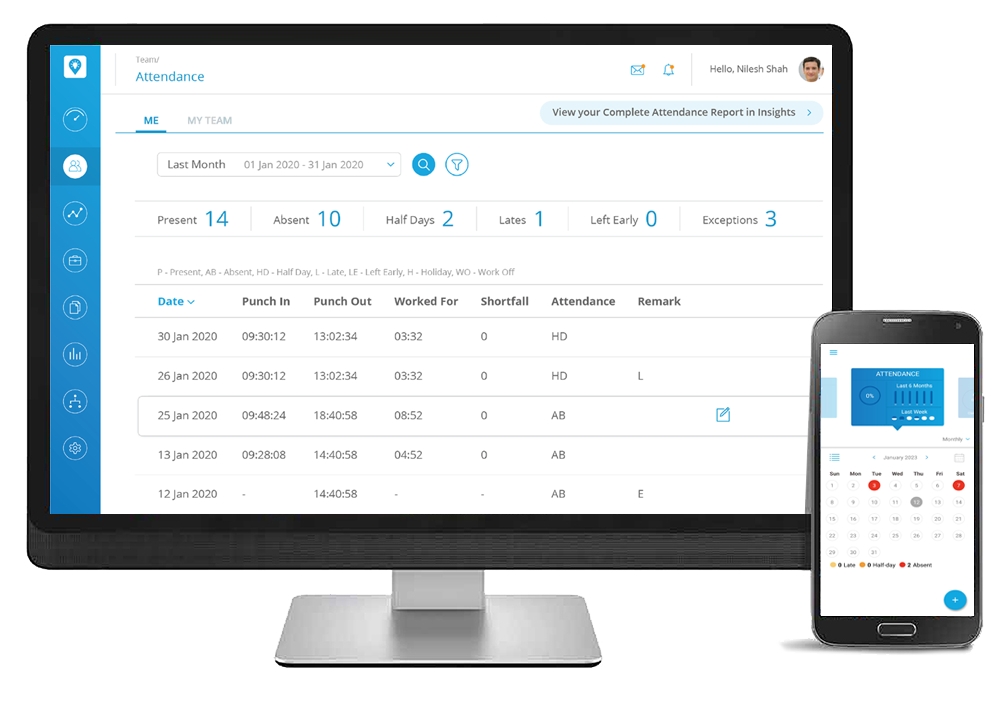 Mark Attendance from Anywhere – With Rules!
Your field and sales staff can report to work from anywhere in the field by punching into the app at the start of the day and punching out from their last visit location. In-office staff need to get within their office geo-fence to punch-in.
Attendance Rectification Workflows
Mistakes can and do happen – people forget to punch-in on time, they forget to punch-out. FieldSense uses user notifications and self-service workflows to let users submit rectification requests, that can be processed by the reporting officers at their convenience – no last-minute paper processing!
Seamless Integration with Your Existing Biometric Device
FieldSense can integrate with your existing access-control device databases and seamlessly handle those records as well.
Reports & Insights
The FieldSense Attendance Report provides detailed records of the punched-in and punched-out time and location of the user and his team (if any) for a specific date or a date range. Users can even export this report if they'd like. The report also consists of an informative summary on top giving interesting insights like "Daily Average Worked Hours", "Attendance Efficiency" and "Man Days Lost".
Payroll-ready Data
The Attendance Muster Report gives detailed information about the worked days, week offs, leaves and public holidays. The day-wise Present/Absent/Half Day status of all employees makes it extremely handy for HR to calculate the payable days during payroll.
Timely Notifications
All users, including the managers, are notified of the application status at every stage to ensure timely actions.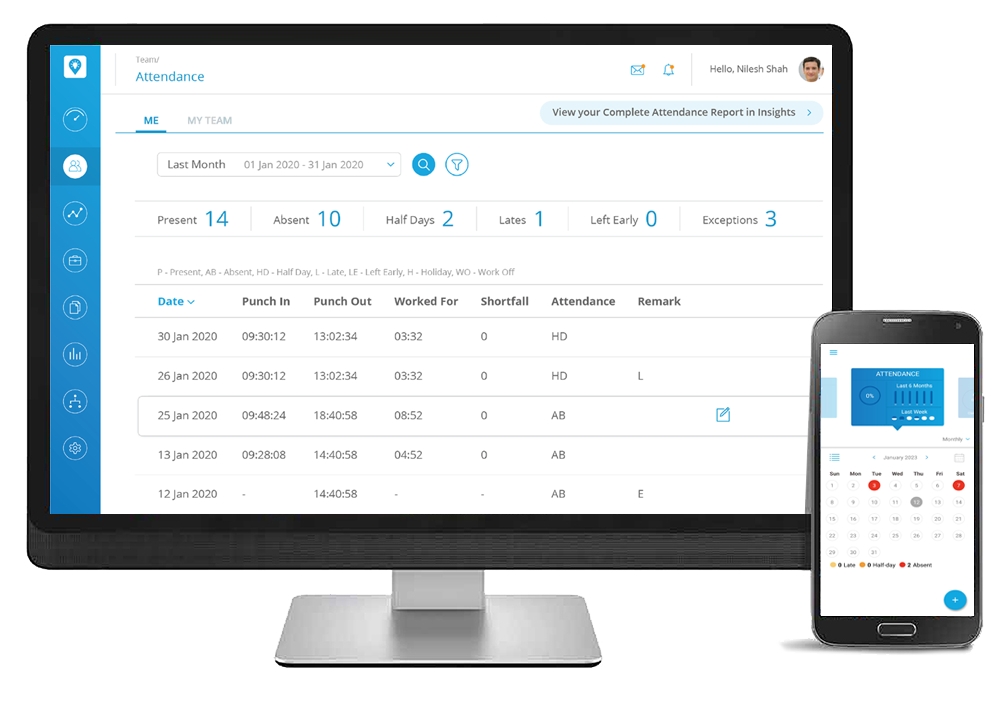 FREE FOR UP TO 20 USERS